Contained on this page are a selection of sites designed over the past few years. Almost all these designs are my own concepts, though some have been developed from an existing theme. Feel free to explore!
premier sites
2003 : Tango Christchurch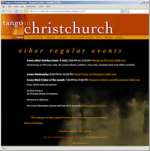 This site was created free-of-charge for a non-profit group to promote Tango dancing around Christchurch. A fun job, this involved creating templates and stylesheets for the various elements of the site, along with all the graphical elements.
View »
2004-2005 : Raztec NZ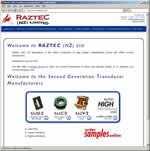 This mass producer of high quality competively priced current transducers required a fresh and professional new website to replace their aging one.
View »
2005 : Electronics Layout and Fabrication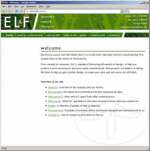 A clean and smart website for a locally based, environmentally friendly electronics manufacturing company.
View »
2004 : The Home Loan Group (NZ) Ltd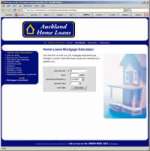 A smart website designed to be themed to suit each branch of The Home Loans Group. Each branch has their own homepage and link to a range of information pages for home buyers.
View »
2002 - 2005 : Flexible Door Technology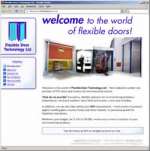 This company sells a technical product and required a site that would help explain to potential customers what made their products the best in the industry. It also had to cater for first-time viewers who had no idea what a flexible door is, as well as architects and engineers who needed technical details, mounting footprints etc.
View »
2004 - 2005 : Brazier Property Investements Ltd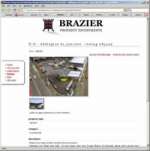 A completely redesigned website for a property investment company. Features an interactive property listing database of all their available investement properties, complete with photos.All managed by the users.
www.investrealestate.co.nz/View »
other sites
2003 : Boggle computer repairs

I'm an employee of Boggle and offered to help create a logo and set of adverts to help get this fledgling company off the ground. The work is simple black and white design, that attempts to be eye-catching and also slightly zany!
I also created their website and online pricelist.
2002 - 2005 : michaeladams.org

My own site, built whenever I have had spare time. It is divided into a number of sections.
Lateral covers a hypothetical computer company of mine and is designed to be smart and professional looking, as well as strictly business, hence the gray palette. Really just an exercise in design.
My diary is a large part of my site and is driven dynamically by a MySQL database and PHP. I also have a photo album which runs alongside my diary.
The welcome page doubles as a site map, but with a difference!
view »
2003 : FiSH

A website for a personal project that never really got off the ground, mainly due to time constraints. I've left the site up though as it has a reasonable amount of useful Linux info.
view »
2004 : Hazard Publishing

After experiencing my Tango site, this Christchutch book publisher wanted to add the same dynamic and exciting feel to their own site.
view »
2004 : Playerbase

The site acts as the front end to a player management system. It had to be clean, fast loading and simple, as well as looking smart and dynamic.
2003, 2004 : Client portal for Solution Architects

A complete client portal was required for this project tracking system. This was an extensive job, requiring hooks into the existing database structure and plenty of thought on the presentation & functionality of the site. Same modern look to the client's existing website, using existing content. The brief was for a smart, clean and professional appearance that would reflect well on the company.
view »
2003 : Patron Booking System
My brief was to redesign the promotional site for this online ticket booking system. Since the product is produced by Solution Architects, I continued the theme over to achieve a "consistient" look and feel and relate the two.
view »
2003 : Notes Unlimited NZ
Basically a carbon-copy of the Solution Architects project & job tracking site with some minor customisations.
view »
2004 : FunnelView

The Sales Funnel concept put into practice. This is a complex database driven website, allowing diffent sales views for multiple users, organizations and locations. A system of powerful reports provide a high level overview of the data.
2004 : Aurum Property Investments
This site provides an interactive guide to current property investment opportunities currently on offer in a friendly and intuitive manner. Of note is that the various section maps are all dynamically generated using data stored in the backing database, however noone need ever know this!