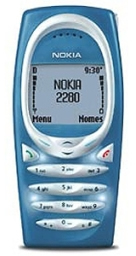 Some info on one of the most common CDMA phones here in New Zealand.
The Nokia 2280 is a very cheap phone with some interesting features. I bought this phone mainly as a curiousity. Here's what I've found out.
AT Commands
By using a serial data cable (i.e. a DCU-5), I was able to connect to the phone and execute AT commands on it. Note that to connect, I first had to run the Nokia PC Suite software, which would send some specific commands to the phone. I then disconnected the phone through the PC Suite software, but left it connected to the serial port. Then through TeraTerm, I was able to connect at 9600/0/1, hardware flow control.
The full range of AT commands are available
here
, however only a subset of these work. Specifically, the following work:
Most plan AT commands, eg:

ATVn — number / string result codes
ATX? — get/set response range
ATZ — reset to default mode
ATS[0-6] — various character codes

Other more extraneous ones:

AT+GCAP — reports phone capabilities
AT+GMI — Phone maker name
AT+CBC — Power status & battery charge level
AT+CSS — Details on CMDA service in use
AT+CSQ — Signal strength (0-31)
Things that
aren't
supported include all the SMS specific commands (AT+CGMS / GGML / CGMD). Running AT
TS2 (Nokie test code) put the phone into some weird mode that couldn't be reset, even with ATZ. Had to restart the phone.

Note that I didn't test any of the calling functions, as these aren't my primary interest at this stage.



Available software & Capabilities
* Nokia PC Suite — Can connect to the phone and back it up. No ability to list address book or send/receive SMS messages.
Oxygen Phone Manager II — was able to connect to the 2280, download the address book and recently made calls list. Attempting to fetch the SMS list from the phone failed, as did attempting to fetch the calendar.
Mobius/PX — Able to connect to phone, fetch and modify contacts, however attempts to send an SMS through the phone failed.
Gammu — open source program, unable to send messages but is able to manipulate phone filesystem.
Useful things about the phone
One interesting attraction of the phone is that it uses Li-ion batteries, which (for this phone at least) are easily and cheaply available through www.trademe.co.nz/ en masse. Which means, I have a cheap and plentiful supply of Li-ion batteries (3.7 V, 600 mAh) and a charger to charge them with. They're also really small batteries, measuring just 5 mm thick.
Java

Via

Gammu

, I have discovered that it is quite possible to download Java applications onto the phone. The must be less than about 30b kB in size, and you need both a .JAD file (text file with application info) and a .JAR file (renamed ZIP file containing the compiled Java classes.

To transfer them, set up Gammu with the following settings:

[gammu]

port = com1:
model = 3100
connection = fbus


The

model = 3100

is needed as the 2280 is not known by Gammu.

To upload an application, use the following command:

C:Documents and SettingsAdministratorDesktopGammuwin32>gammu --nokiaaddfile Application Satellite
Searching for phone folder:

***
Adding "Satellite" version 1.0.0 created by FER
Writing JAD file: 100 percent
Writing JAR file: 100 percent


(Uploads

Satellite.jad and Satellite.jar

files. These must be in the current directory).